Online giant Amazon continues to grow during the corona pandemic. Just some month ago, the company announced that they were hiring hundreds of thousands of new workers in the United States to meet increased demand during the corona crisis. Now they plan to employ another 75,000 people in the country. This is happening while protests are growing among the warehouse workers on the floor. Arbetaren interviewed Christian Smalls, 31, who organized a strike at Staten Island's JFK8 warehouse for better security - and who was then fired by the company.
It is early morning in New York when Christian Smalls answers the call. It has only been some week since he was fired from Amazon after organizing a protest at his former workplace, at JFK8 on Staten Island, New York. A distribution center where around 5000 people currently are working.
Christian Smalls said that the company did not take adequate security measures in connection with the outbreak of the virus. Not least in New York, a city that has become the epicenter of the pandemic and where thousands of people have died as a consequence of Covid-19. In early March, the mayor proclaimed a state of emergency in the city of eight million people, and since then the streets have been deserted and empty. At the same time, the work is ongoing at Amazon's distribution centers as usual.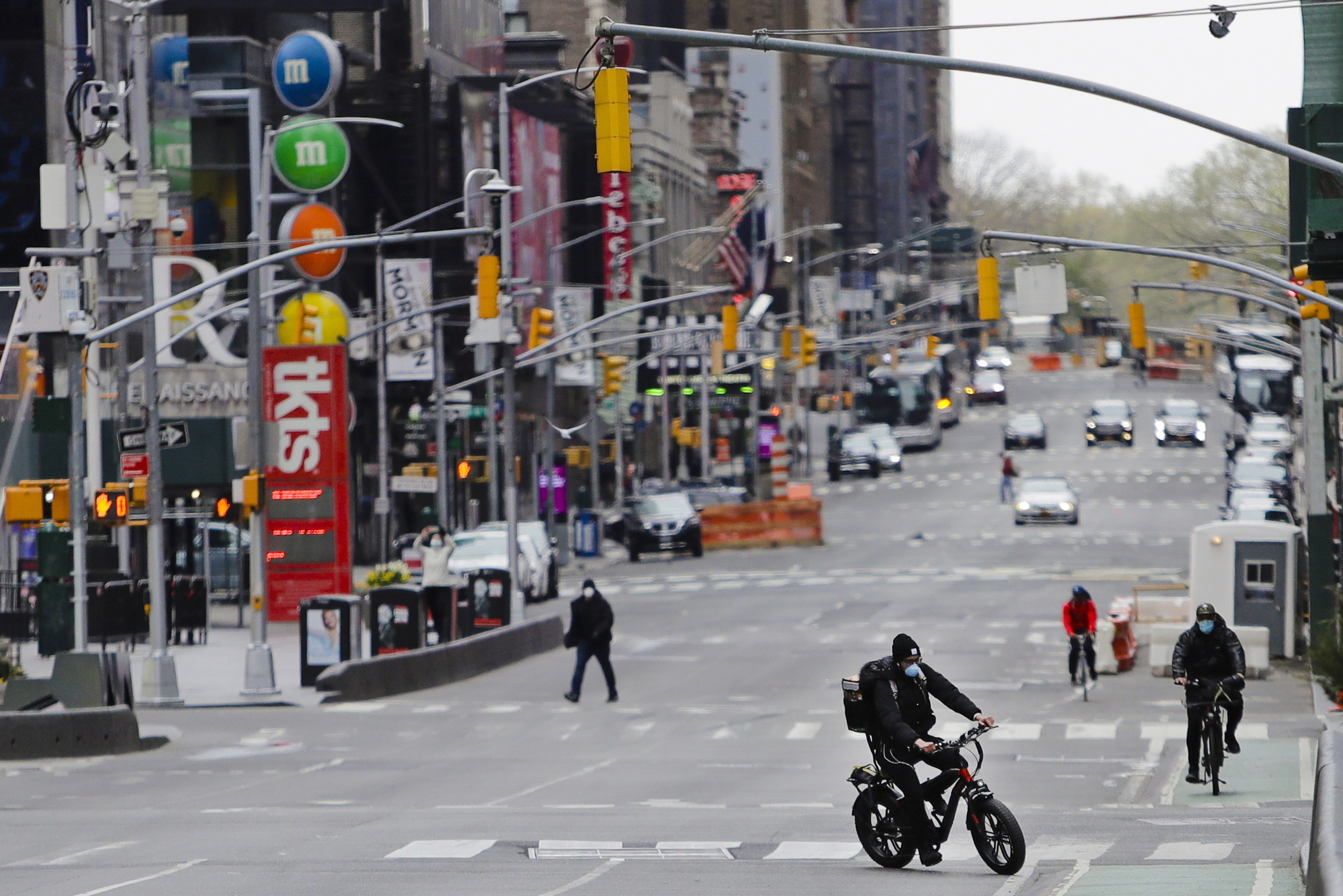 Christian Smalls says he noted in early March that colleagues around him on the floor began to feel bad.
– Some of them were vomiting, some of them were dizzy, light-headed, tired… I knew something was wrong, so I tried to escalate it to my HR team, saying like' hey, something is wrong here, we should quarantine the building just to be precautious. We didn't have any confirmed cases in the beginning of March. They were like business as usual, we're following the CDC guidelines, there's no concern we need to take action right now'. I wasn't really agreeing with it, but I was like trying to continue to fight behind the scenes.
Christian Smalls took a few days off and contacted the health authorities in New York. When he returned to work on March 24, he was met by a sick and exhausted colleague. She had bloodshot eyes and said that the day before she had gotten tested for Covid-19 and was now waiting for the test result.
– I told her to go home. It was nine in the morning, it was still early. She was my friend and listened to me and understood. She went home.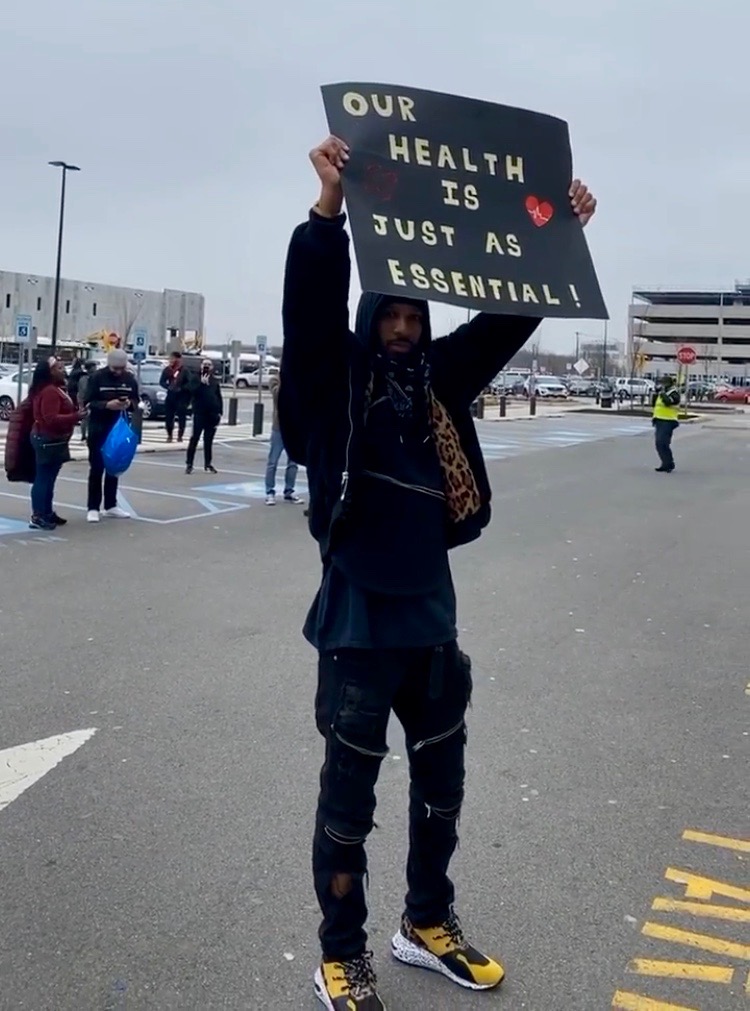 Two hours later, at eleven o'clock in the morning, it was the usual time for a manager meeting. There, Christian Smalls was told that they had a first positive confirmed case of Covid-19 in the building.
In Queens, a similar situation had occurred at an Amazon warehouse just some weeks earlier. By then they had closed down the building and then professionally sanitized the premises. Christian Smalls expected the same thing to happen on Staten Island. But that was not the case.
– So I was expecting the same thing. I was expecting us to close down, send everybody home with pay and they call a professional crew to come to sanitize the building. That didn't happen. Everybody was like business as usual, don't tell the employees, we don't want to cause a panic. That was the last time that I worked for Amazon.
Christian Smalls says he refused to give up. He went home, made more phone calls, tried to draw media attention. He contacted the authorities again but without results.
The next morning he returned to the building but went to the cafeteria instead.
– So I went back to the building every single day – Wednesday, Thursday, Friday, Saturday – and I sat in the cafeteria for 8 hours a day, trying to tell the employees the truth. I said hey, somebody was in here, that has been working around you guys, that tested positive. Let's try to close the building down, let's go to the general manager's office.
– So every morning around at 9 o'clock in the morning, we gonna go to interrupt his meeting. I had a group of 10 people to go voice their concerns, including myself. And he get on a phone call and I guess he tried to call the Regionals or whoever is above to decide and try to close the building down – allegedly. But nothing happened.
Christian Smalls says that they repeatedly got the same type of evasive answer – "it's not a Site-Level-Decision", "I missed the Regionals" and "we don't have to close the building down, we're following the guidelines".
So I guess he was probing at me, what you guys plan on doing. I was like I don't know but something has to be done.

Christian Smalls
On Friday Smalls went to the general manager's office alone and got into an intense argument with him.
– I told him we need to close this building down or we gonna have to do something. I brought up the Kentucky building. They closed down, because the government closed it down and they paid the people for the entire week, I believe, until April 1st. I said well, Kentucky closed down, why can't we close down? We're the same type of building and he basically told me that the government did it, that the employees didn't protest. But I read in the article, that they protested. So I guess he was probing at me, what you guys plan on doing. I was like I don't know but something has to be done.
Christian Smalls again had to read the guidelines that didn't make any sense or mean anything to him. He left and began mobilizing for a walkout on Monday. This time the media started to call him up.
On Saturday he returned to the building and to the cafeteria. A manager came forward and took Christian Smalls aside. He said he would be put on paid quarantine because he came in contact with someone infected by Covid-19.
– I said, well yeah I've been tellin' you guys that all week. But not only did I get in contact with her, but my entire department. We all need to be quarantined – the entire building. She is a supervisor, she has to engage with people, she has to work hand in hand with people, she has to help people – we all need to be quarantined. Including the person I drive to work with. No, just you, nobody else, just you. So, just me, not even the person I drive to work with. Ok, no problem. I left. I knew something was wrong, something was obviously wrong! I was being targeted to be silenced. They obviously got tired of me.
On Monday at lunchtime, Christian Smalls organized the walkout.
– About 50 to 60 people that came out. Everything was planned. Down to the timing. I picked the day where it's gonna be nice weather, 65 degrees Fahrenheit, so I knew everybody would like to eat lunch outside. I gave the world, what needed to be seen, it was the walk out. And people joined us right there on the spot, people were holding my signs up.
– They were talking to the press, the media, telling the truth about not being protected at work and that's exactly what I wanted to happen. I wanted them to note they were not being protected. There's no mask, these are not the right type of gloves. That's what started the spark of revolution, because a lot of people all over the globe realized they're in the same situation and this is very dangerous, this is life or death.
Two hours later, Christian Smalls got fired from the company over the phone. Amazon disputed that he was terminated because of his agitation or political involvement. A spokeswoman for the company, Kristen Kish, said that he got fired because he had returned to work to conduct the demonstration even though he was in the midst of a paid 14-day quarantine after coming into contact with someone at the facility who was sick.
– We terminated his employment for putting the health and safety of others at risk and violations of his terms of his employment, Kirsten Kish said to New York Times.
Amazon also denies not having told employees at the warehouse of confirmed cases and has told Forbes magazine that the company asked anyone who was in close contact with the diagnosed staff member to self-quarantine for 14 days, with pay.
The strike got a lot of attention in American media. But also the fact that Christian Smalls got fired. New York Mayor Bill De Blasio announced at a press conference that he has asked the city's human rights commissioner to investigate the case.
But Amazon also ended up in a media scandal. An internal meeting protocol leaked and Vice News revealed how top executives at Amazon discussed Smalls during a morning meeting.
"He is not smart, or articulate," senior Amazon chief David Zapolsky wrote in the meeting chat about Christian Smalls. "Let him be the most interesting part of the story, and if possible, let him become the face of the entire trade union and organizing movement." Also present at the meeting was Jeff Bezos, Amazon's founder and CEO.
In a statement to VICE News, Zapolsky said his "comments were personal and emotional."
"I was frustrated and upset that an Amazon employee would endanger the health and safety of other Amazonians by repeatedly returning to the premises after having been warned to quarantine himself".
Christian Smalls was not surprised at how they expressed themselves in the internal meeting minutes.
How did you feel when you read the conversation?
– I don't feel anything, because they didn't do anything for me, my entire life! I don't care about their opinion. It's not about me – it never was. If they're threatened by somebody who makes 25 dollars an hour and they have the richest man in the world in the room with them, that tells you that I was speaking the truth – is it really that serious to have a meeting with the CEO? That tells you right there that there is some truth to my story. There's a lot of truth to my story. It's intimidating them, it's causing them to lose money. They're greedy, they're all about the money, they don't care about people.
– They even say that. We don't worry about the employees, let's just worry about Christian Smalls. That tells you right there, that they don't give a damn about the people, sorry for my language, but they don't care about people. If you work for Amazon, that tells you how little value you are to them. You just making them richer and richer, they don't care if you bring this virus home to your families. They don't care about you. They don't care whether you live or die! You pass away, guess what they're gonna do? They gonna hire 100 000 more people. People got to wake up. Walk out!
After your resignation, the mayor of New York told them to have the Commissioner for Human Rights investigate the case. Will they do this?
– Yeah, absolutely! They already started it. They sent them letters, they had to respond. It's only a matter of time. Right now it's kind of difficult. The courts are closed. Everybody's quarantined. But they definitely have this as a top priority right now. They're still working on it. They're trying to examine it and it's still investigated. I appreciate the mayor and all the Congress people, senators that stepped up to help investigate.
Do you think many employees are scared to stand up to Amazon?
– Absolutely. Yeah, that's intimidation, it'll stop everybody else because people would be like, oh, if you say something, you will get fired. So, there's a lot of people. I'm getting e-mails every single day, all over the world. People that are telling me I wanna be anonymous, but here's what's going on, I'm afraid but here's what's going on. It's sad but I have them all: Tokyo – Japan, Brazil, London, Colombia, you name it, I have spoken to somebody everywhere and it's sad what is really going on. It's not just America, it's not just JFK8 in Staten Island, it's all over the world, these buildings, all over.
– And my message to everybody is: No. 1 – you want to practise real social distancing, stop clicking the One-Click-Buy, stop ordering from them. If you're an Amazon employee and you feel that you're not safe: Take your power back! These people, that's rich they're not gonna pick a box, pack a box and send it out to the customer. You have the power. Take your power back, walk out! Stand up! Don't be afraid.
How did it go when you started working on Amazon? Have you always worked as an assistant manager?
– I started off at the bottom. I started off making 12 dollars an hour. I got promoted up. I was a regular Tier 1 associate, a picker – we call them pickers. I got hired at the bottom, obviously I'm still at the bottom, but it doesn't matter. I worked my way up into a supervisor position in less than a year, actually, in less than a year I got promoted up. I opened up three buildings for them: New York, New Jersey and Connecticut. In each building I spent over a year, almost two years.
Your colleague was expected to work while she waited for the results of the Covid-19 test. Shouldn't she have been quarantined?
– They don't put you on quarantine, you're right, you're absolutely right – they should put you on quarantine until you get the results back, but they don't! You gotta actually come back to work. That's the reason why I said their policy doesn't make sense. How can you go and get the test – you don't even get the test if you don't show severe symptoms. So that means that you possibly may have it. I don't wanna take that chance and let you come back to work. I'll wait till you get your results back. That's gonna take a couple of days. I've told Amazon many times that they need such policies but they haven't done anything.
And when you worked there was one person who tested positive, while others claim that there were in fact ten cases?
– There are about 30 cases now. In that building.
Are you planning new actions?
– Well, me, personally, I have to continue with the press, with my team. What I'm planning to do long-term is to continue to help to support the unions across the nation. We have one common goal right now. To form a coalition against these corporations taking advantage of frontliners. That's the goal right now, to take the power back from capitalism and make a good balance between the frontliner workers, so that never happens again. That's my goal.
Now that you've been fired, how do you manage to support yourself?
– I just put up a "Gofundme" on my page – it's not really for me, though, it's for the people that are unpaid. I wanted to take care for my people first, that's what I started it for. If you wanna support, you can donate to my "gofundme" on my Twitter page. It's up there now. I decided to finally give in, because the people were trying to donate to me, since day one. I wasn't accepting this, because it's not about the money, it never was about the money. It's about saving lives, but I got people that are suffering right now. People that haven't been to work for over a month. So I want to take care of them and so I decided to take the donations. I contacted the person yesterday – very good people. They did it out of their kindness, out of their heart and I'm gonna to continue to help everybody else. That's what we're going to do with that money.
Are there many now, that don't dare to go to work, that stay home without pay?
– Yeah, absolutely! You got 18 year old kids who don't go to work. There are senior citizens, that have health conditions, that don't go to work. You got people that are sick and can't get a test – they don't want to put their co-workers at jeopardy, they don't go to work. So yeah, there's a lot of people that don't go to work. And I want to take care of them.
Have people taken their vacation early to stay home with pay?
– We don't have any – it's not going to work. I used all my vacation time, I used all my personal pay time. But if you haven't been there long enough, you won't have any. You don't have enough. We don't know how long we are going to be in this situation, it could be months.
Over the past two weeks, more employees have been fired after openly criticizing the company. Maren Costa and Emily Cunningham were both employees on the tech side of Amazon and worked as user experience designers. They criticized the company on Twitter for not taking the security risks of the warehouse workers seriously and allowed a call to circulate among the employees. Costa had worked for the company for 15 years and Cunningham for more than five years. Both were also active in the Amazon Employees for Climate Justice group.
A company spokeswoman has confirmed to The Guardian, that the two employees were fired for "repeatedly violating internal policies", which prohibit employees from commenting publicly on its business without corporate justification and approval from executives.
Last week, Bashit Mohamed, a warehouse worker in Minnesota, was also fired after trying to organize employees for better security during the corona pandemic. Amazon has stated that Bashit Mohamed was fired due to inappropriate language and behavior.
Listen to the podcast "Amazon: Resistance in times of pandemic" and our interview with Christian Smalls: